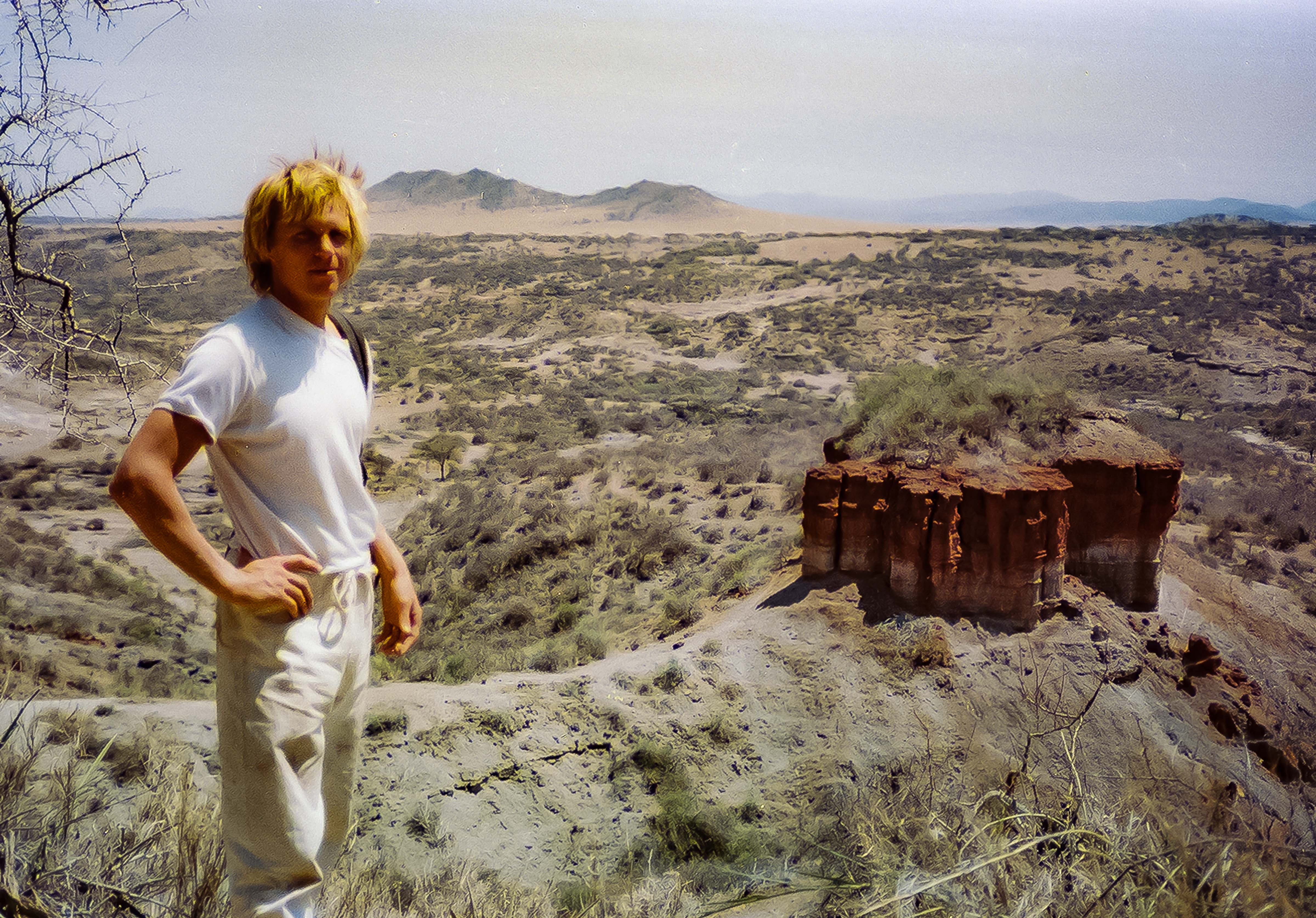 September 2, 1984
Ngorongoro Crater Lodge, Tanzania
Woke up late (at 10am) feeling drained by both yesterday's excitement, last night's craziness, late hours and weird inter-personal vibes. The morning lasted until 3pm, when Gabrielle and I finally got out and walked down to the junction. There were some fellows there who'd been waiting since 10am for a ride to Seronera. We toyed with the idea of walking to Olduvai and spent a rather difficult time analyzing our best move. Finally, we decided to go back and get our room, which we did. We plan to wake really early tomorrow and try to find a ride there. We would walk, but it's illegal, though I am personally not afraid of lions chasing me.
September 3, 1984
Lake Manyara Campsite, Tanzania via Olduvai Gorge!!

Another fantastic day!! Awoke 7am, packed a light load and went to the Crater Lodge. I asked all the people leaving the lodge after breakfast if they were going to Olduvai Gorge. The last people were very nice and said they were going there and back by lunch time, were only four and would be glad to take us for free!! We had breakfast and got the lift at 9am. On the way, there were some really big giraffes, and the biggest was only 35 meters from us. We saw a Coke's Hartebeest, a herd of eland in the distance and Maasai tending their cattle. We descended onto the eastern part of the Serengeti plains seeing giraffes, five here, three there. The plains were very dry. We came to the turnoff to Olduvai Gorge. It was 5 1/2 kilometers off the main road.
To look at the gorge is not particularly impressive for scenery, but hearing the facts told by a ranger, visiting the small museum and knowing that this is a place where man and animal have lived and perished in many forms and species for millions of years made it a stunning experience. The Gorge itself runs for 50 kilometers or so. The remarkable hominoid footprints in hardened ash at Laetoli is excellent evidence of upright man living 3.6 millions years ago. Knowing Olduvai is in the midst of Serengeti and Ngorongoro, seeing the evidence of several species of early hominoids and the fragmentary skulls of extinct giraffes, rhinos, elephants, and many more, lends a more complete and awesome atmosphere to the whole region. It has been intact for millions upon millions of years. On the return trip (we didn't go into the gorge but stared at it from above), we came fairly close to ostriches and saw about fifteen giraffes in all. We saw about twenty hartebeests up on a ridge as well. We lunched at the lodge, went to our room, where Gabrielle and I made fine love, pretending kissing was "verboten." We packed, went to the road and happily got a ride in ten minutes all the way to the Lake Manyara campsite (saw five elephants on the way), admiring the pale yellow, tree and grass greens, red earth and pale blue clouded sky that characterized the area. Gabrielle and I had a spat. We made up, and then she and I made joyful love and had lentil/pasta and good coffee. Lovely here.